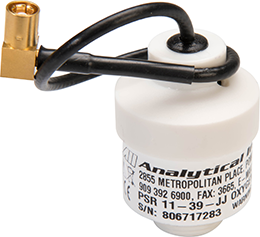 Cảm biến Oxy Oxygen sensor
Xuất sứ: USA
Nhà cung cấp: Aii/Aii1
Hãng sản xuất: Aii
Ứng dụng sản phẩm: Diving Products
Liên hệ tư vấn

Mr Hương

huong@ansgroup.asia

0984.359.334

live:huong_237
Đại lý phân phối chính thức Hãng AII tại Việt Nam - Aii Vietnam - ANS Vietnam - Đại lý AII, Aii Vietnam, Aii1 Vietnam
Qúy khách có nhu cầu vui lòng liên hệ để được hỗ trợ tư vấn kỹ thuật và giá tốt nhất :
Đặng Văn Hương I Huong Mr. I
===========================
I cellphone I +84 984.359.334
I email I huong@ansgroup.asia
JJ Rebreather "Retrofit"
R-17JJ-CCR Sensor
Advanced galvanic type % oxygen sensor with excellent stability and accuracy under stringent applications. All rebreather % oxygen sensor are subjected to the most extensive stability test, output in air, output at 100% O2 and output reading at 100% O2 at 1.8 ATA. The widest range of oxygen sensors offered by Analytical Industries, Inc. are "Made in USA"
List Code :
| | |
| --- | --- |
| Oxygen Sensor_B1SA_Aii (Advanced Instrument Inc) | Aii1 VietNam, AII VietNam |
| Oxygen Sensor_GPR-11-233-H_Aii (Advanced Instrument Inc) | Aii1 VietNam, AII VietNam |
| Oxygen Sensor_GPR-11-37-4_Aii (Advanced Instrument Inc) | Aii1 VietNam, AII VietNam |
| Oxygen Sensor_GPR-11-37-I_Aii (Advanced Instrument Inc) | Aii1 VietNam, AII VietNam |
| Oxygen Sensor_GPR-11-917-J_Aii (Advanced Instrument Inc) | Aii1 VietNam, AII VietNam |
| Oxygen Sensor_GPR-11-917-M_Aii (Advanced Instrument Inc) | Aii1 VietNam, AII VietNam |
| Oxygen Sensor_PSR-11-21_Aii (Advanced Instrument Inc) | Aii1 VietNam, AII VietNam |
| Oxygen Sensor_PSR-11-213_Aii (Advanced Instrument Inc) | Aii1 VietNam, AII VietNam |
| Oxygen Sensor_PSR-11-23_Aii (Advanced Instrument Inc) | Aii1 VietNam, AII VietNam |
| Oxygen Sensor_PSR-11-233_Aii (Advanced Instrument Inc) | Aii1 VietNam, AII VietNam |
| Oxygen Sensor_PSR-11-33-JL_Aii (Advanced Instrument Inc) | Aii1 VietNam, AII VietNam |
| Oxygen Sensor_PSR-11-25_Aii (Advanced Instrument Inc) | Aii1 VietNam, AII VietNam |
| Oxygen Sensor_PSR-11-330_Aii (Advanced Instrument Inc) | Aii1 VietNam, AII VietNam |
| Oxygen Sensor_PSR-11-39_Aii (Advanced Instrument Inc) | Aii1 VietNam, AII VietNam |
| Oxygen Sensor_PSR-11-52_Aii (Advanced Instrument Inc) | Aii1 VietNam, AII VietNam |
| Oxygen Sensor_PSR-11-54_Aii (Advanced Instrument Inc) | Aii1 VietNam, AII VietNam |
| Oxygen Sensor_PSR-11-54-3_Aii (Advanced Instrument Inc) | Aii1 VietNam, AII VietNam |
| Oxygen Sensor_PSR-11-75-KE_Aii (Advanced Instrument Inc) | Aii1 VietNam, AII VietNam |
| Oxygen Sensor_PSR-11-75-KE10_Aii (Advanced Instrument Inc) | Aii1 VietNam, AII VietNam |
| Oxygen Sensor_PSR-11-75-KE12_Aii (Advanced Instrument Inc) | Aii1 VietNam, AII VietNam |
| Oxygen Sensor_PSR-11-75-KE13PB_Aii (Advanced Instrument Inc) | Aii1 VietNam, AII VietNam |
| Oxygen Sensor_PSR-11-75-KE250A_Aii (Advanced Instrument Inc) | Aii1 VietNam, AII VietNam |
| Oxygen Sensor_PSR-11-75-KEF3_Aii (Advanced Instrument Inc) | Aii1 VietNam, AII VietNam |
| Oxygen Sensor_PSR-11-75-KEF4_Aii (Advanced Instrument Inc) | Aii1 VietNam, AII VietNam |
| Oxygen Sensor_PSR-11-75-KEFR_Aii (Advanced Instrument Inc) | Aii1 VietNam, AII VietNam |
| Oxygen Sensor_PSR-11-75-KEFR-NC_Aii (Advanced Instrument Inc) | Aii1 VietNam, AII VietNam |
| Oxygen Sensor_PSR-11-77 Ind_Aii (Advanced Instrument Inc) | Aii1 VietNam, AII VietNam |
| Oxygen Sensor_PSR-11-OX-3_Aii (Advanced Instrument Inc) | Aii1 VietNam, AII VietNam |
| ppm Oxygen Sensor_PSR-12-223_Aii (Advanced Instrument Inc) | Aii1 VietNam, AII VietNam |
| ppm Oxygen Sensor_PSR-12-223-H_Aii (Advanced Instrument Inc) | Aii1 VietNam, AII VietNam |
| ppm Oxygen Sensor_PSR-12-223-IT_Aii (Advanced Instrument Inc) | Aii1 VietNam, AII VietNam |
| ppm Oxygen Sensor_PSR-12-223-L_Aii (Advanced Instrument Inc) | Aii1 VietNam, AII VietNam |
| Oxygen Sensor_PSR-12-223-L_Aii (Advanced Instrument Inc) | Aii1 VietNam, AII VietNam |
| Oxygen Sensor_PSR-12-243_Aii (Advanced Instrument Inc) | Aii1 VietNam, AII VietNam |
| Oxygen Sensor_PSR-12-OX-1_Aii (Advanced Instrument Inc) | Aii1 VietNam, AII VietNam |
| Oxygen Sensor_SAF-11-02-I_Aii (Advanced Instrument Inc) | Aii1 VietNam, AII VietNam |
| Oxygen Sensor_XLT-11-15_Aii (Advanced Instrument Inc) | Aii1 VietNam, AII VietNam |
| Oxygen Sensor_XLT-11-15-EC_Aii (Advanced Instrument Inc) | Aii1 VietNam, AII VietNam |
| Oxygen Sensor_XLT-11-1513_Aii (Advanced Instrument Inc) | Aii1 VietNam, AII VietNam |
| Oxygen Sensor_XLT-11-1523_Aii (Advanced Instrument Inc) | Aii1 VietNam, AII VietNam |
| Oxygen Sensor_XLT-11-153_Aii (Advanced Instrument Inc) | Aii1 VietNam, AII VietNam |
| Oxygen Sensor_XLT-11-39_Aii (Advanced Instrument Inc) | Aii1 VietNam, AII VietNam |
| Oxygen Sensor_XLT-11-52_Aii (Advanced Instrument Inc) | Aii1 VietNam, AII VietNam |
| Oxygen Sensor_XLT-11-75-KE_Aii (Advanced Instrument Inc) | Aii1 VietNam, AII VietNam |
| Oxygen Sensor_XLT-11-75-KE3_Aii (Advanced Instrument Inc) | Aii1 VietNam, AII VietNam |
| Oxygen Sensor_XLT-11-75-KEF3_Aii (Advanced Instrument Inc) | Aii1 VietNam, AII VietNam |
| Oxygen Sensor_XLT-11-OX-4_Aii (Advanced Instrument Inc) | Aii1 VietNam, AII VietNam |
| ppm Oxygen Sensor_XLT-12-123_Aii (Advanced Instrument Inc) | Aii1 VietNam, AII VietNam |
| ppm Oxygen Sensor_XLT-12-123 L2_Aii (Advanced Instrument Inc) | Aii1 VietNam, AII VietNam |
| ppm Oxygen Sensor_XLT-12-123-IT_Aii (Advanced Instrument Inc) | Aii1 VietNam, AII VietNam |
| ppm Oxygen Sensor_XLT-12-123-T2_Aii (Advanced Instrument Inc) | Aii1 VietNam, AII VietNam |
| ppm Oxygen Sensor_XLT-12-OX-2_Aii (Advanced Instrument Inc) | Aii1 VietNam, AII VietNam |
| | |
| --- | --- |
| GPR-1500 DA_PPM Oxygen Analyzer, 2x Alarms_Aii | Aii1 VietNam, Aii VietNam, AII Vietnam |
| GPR-1500 DK_PPM Oxygen Transmitter, NEMA 4X Enclosure, Meets Standards for Class 1 Div 2_Aii | Aii1 VietNam, Aii VietNam, AII Vietnam |
| GPR-1500 DN_PPM Oxygen Transmitter, NEMA 4X Enclosure_Aii | Aii1 VietNam, Aii VietNam, AII Vietnam |
| GPR-1500 DN ATEX_PPM Oxygen Transmitter, NEMA 4X Enclosure, External Barriers, Intrinsically Safe II 2 G Ex ia IIB T4_Aii | Aii1 VietNam, Aii VietNam, AII Vietnam |
| GPR-1500 GB_PPM Oxygen Transmitter, Glove Box (with B-3170 Sample/Calibration Assembly)_Aii | Aii1 VietNam, Aii VietNam, AII Vietnam |
| GPR-1500 IS ATEX_PPM Oxygen Transmitter, Certified Intrinsically Safe - ATEX II 2 G Ex d [ib] ib IIB T4 -20C to +50C_Aii | Aii1 VietNam, Aii VietNam, AII Vietnam |
| GPR-1500 IS UL_PPM Oxygen Transmitter, Certified Intrinsically Safe - UL Class I, Division 1, Groups C and D_Aii | Aii1 VietNam, Aii VietNam, AII Vietnam |
| GPR-1500 IS-LD ATEX_PPM OxygenTransmitter, Liquid Drain Sample System, Certified Intrinsically Safe - ATEX II 2 G Ex d [ib] ib IIB T4_Aii_ANSS Vietnam | Aii1 VietNam, Aii VietNam, AII Vietnam |
| GPR-1500 IS-LD UL_PPM OxygenTransmitter, Liquid Drain Sample System, Certified Intrinsically Safe - UL Class I, Division 1, Groups C and D_Aii | Aii1 VietNam, Aii VietNam, AII Vietnam |
| GPR-1500 N_PPM Oxygen Transmitter, NEMA 4X Enclosure_Aii | Aii1 VietNam, Aii VietNam, AII Vietnam |
| GPR-1500 N ATEX_PPM Oxygen Transmitter, NEMA 4X Enclosure, External Barriers, Certified Intrinsically Safe - ATEX II 2 G Ex ia IIB T4_Aii | Aii1 VietNam, Aii VietNam, AII Vietnam |
| GPR-1500 PM_PPM Oxygen Transmitter, Panel Mount_Aii | Aii1 VietNam, Aii VietNam, AII Vietnam |
| GPR-16 MS W306-F_PPB Oxygen Analyzer, Wall Mount, 2nd Flowmeter_Aii | Aii1 VietNam, Aii VietNam, AII Vietnam |
| GPR-1600_PPM Oxygen Analyzer_Aii | Aii1 VietNam, Aii VietNam, AII Vietnam |
| GPR-1600 MS_PPB Oxygen Analyzer_Aii | Aii1 VietNam, Aii VietNam, AII Vietnam |
| GPR-1600 MS T_PPB Oxygen Analyzer, Delete Heater and Bypass Valve_Aii | Aii1 VietNam, Aii VietNam, AII Vietnam |
| GPR-1600 MS TO_PPB Oxygen Analyzer, Delete Heater and Bypass Valve_Aii | Aii1 VietNam, Aii VietNam, AII Vietnam |
| GPR-1600 MS W_PPB Oxygen Analyzer, Wall Mount_Aii | Aii1 VietNam, Aii VietNam, AII Vietnam |
| GPR-1600 MS W306_PPB Oxygen Analyzer_Aii | Aii1 VietNam, Aii VietNam, AII Vietnam |
| GPR-1600 MS WT_PPM Oxygen Analyzer, Wall Mount_Aii | Aii1 VietNam, Aii VietNam, AII Vietnam |
| GPR-1600 T_PPM Oxygen Analyzer, Delete Bypass Valve_Aii | Aii1 VietNam, Aii VietNam, AII Vietnam |
| GPR-1600 TO_PPM Oxygen Analyzer, Delete Bypass Valve_Aii | Aii1 VietNam, Aii VietNam, AII Vietnam |
| GPR-1600 UHP_PPB Oxygen Analyzer, Auto Zero/Cal/Pneumatic Valves for Sample and Span Inlets, Isolation, Bypass Loop, Integral Zero Scrubber; Remote USB/RS-232 Communications_Aii | Aii1 VietNam, Aii VietNam, AII Vietnam |
| GPR-1600 UHP B_PPB Oxygen Analyzer, Delete Span Inlet and Integral Zero Scrubber Valves_Aii | Aii1 VietNam, Aii VietNam, AII Vietnam |