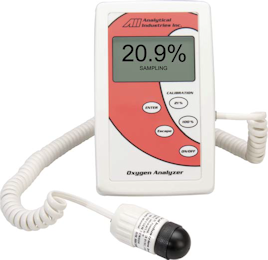 Máy phân tích khí Nitrox - Nitrox Analysers for Welding
Xuất sứ: USA
Nhà cung cấp: Aii/Aii1
Hãng sản xuất: Aii
Ứng dụng sản phẩm: Diving Products
Liên hệ tư vấn

Mr Hương

huong@ansgroup.asia

0984.359.334

live:huong_237
Features of Nitrox Analysers for Welding
0-100% O

2

measurement range
Long sensor life up to 60 months (AII-3000)
Battery life up to 13,000 hours of continuous use (Palm O

2

)
Integrated or remote sensors
Fast response time of T90 in <10 seconds
Đại lý phân phối chính thức Hãng AII tại Việt Nam - Aii Vietnam - ANS Vietnam - Đại lý AII, Aii Vietnam, Aii1 Vietnam
Qúy khách có nhu cầu vui lòng liên hệ để được hỗ trợ tư vấn kỹ thuật và giá tốt nhất :
Đặng Văn Hương I Huong Mr. I
===========================
I cellphone I +84 984.359.334
I email I huong@ansgroup.asia
Analytical Industries' AII-3000 series or Palm O2 are a convenient way to check oxygen levels in welding gases. These cost effective gas analyzers also measure and display the concentration of oxygen in compressed breathing air tanks intended for scuba diving, for personnel safety, O2 deficiency in confined spaces, as well as confirming the O2 levels prior to welding. These monitors use similar electrochemical galvanic fuel cell oxygen sensor that are extensively used to measure concentrations from 0% to 100% O2 in gas streams.
List Code :
| | |
| --- | --- |
| AII-3000 A_Oxygen Analyzer_Aii_Aii | Aii1 VietNam, Aii VietNam, AII Vietnam |
| AII-3000 A-PRX_Oxygen Analyzer with Retractable Pole_Aii | Aii1 VietNam, Aii VietNam, AII Vietnam |
| AII-3000 AHC_Oxygen Analyzer, Hose Connection_Aii | Aii1 VietNam, Aii VietNam, AII Vietnam |
| AII-3000 M_Oxygen Analyzer, Alarms_Aii | Aii1 VietNam, Aii VietNam, AII Vietnam |
| GPR-1000_Portable PPM Oxygen Analyzer_Aii | Aii1 VietNam, Aii VietNam, AII Vietnam |
| GPR-1000 ATEX_Portable PPM Oxygen Analyzer, Certified Intrinsically Safe - ATEX II 2 G Ex ib IIB T4 -20C to +50C_Aii | Aii1 VietNam, Aii VietNam, AII Vietnam |
| GPR-1000 WP_0-1000 PPM Oxygen Weld Purge Analyzer, Integral Pump, Panel Mounted Bypass/Isolation Valve, 1/8" SS Connections_Aii | Aii1 VietNam, Aii VietNam, AII Vietnam |
| GPR-1100_Portable PPM Oxygen Analyzer_Aii | Aii1 VietNam, Aii VietNam, AII Vietnam |
| GPR-1100 ATEX_Portable PPM Oxygen Analyzer, Cerified Intrinsically Safe - ATEX II 2 G Ex ib IIB T4 -20C to +50C_Aii | Aii1 VietNam, Aii VietNam, AII Vietnam |
| GPR-1200_Portable PPM Trace Oxygen Analyzer_Aii | Aii1 VietNam, Aii VietNam, AII Vietnam |
| GPR-1200 ATEX_Portable PPM Oxygen Analyzer, Certified Instrinsically Safe - ATEX II 2 G Ex ib IIB T4 -20C to + 50C_Aii | Aii1 VietNam, Aii VietNam, AII Vietnam |
| GPR-1200 MS_Portable PPB Oxygen Analyzer_Aii | Aii1 VietNam, Aii VietNam, AII Vietnam |
| GPR-1200 MS ATEX_Portable PPB Oxygen Analyzer, Certified Intrinsically Safe - ATEX II 2 G Ex ib IIB T4 -20C to +50C_Aii | Aii1 VietNam, Aii VietNam, AII Vietnam |
| GPR-15 XP_PPM Oxygen Transmitter, Explosion Proof, meets standards for Class 1, Div 1, Grp B,C,D_Aii | Aii1 VietNam, Aii VietNam, AII Vietnam |
| GPR-1500_PPM Oxygen Transmitter_Aii | Aii1 VietNam, Aii VietNam, AII Vietnam |
| GPR-1500 A_PPM Oxygen Analyzer, 2x Alarms_Aii | Aii1 VietNam, Aii VietNam, AII Vietnam |
| GPR-1500 AIS ATEX_PPM Oxygen Analyzer, Certified Intrinsically Safe - ATEX II 2 G Ex d [ib] ib IIB T4 -20C to +50C_Aii | Aii1 VietNam, Aii VietNam, AII Vietnam |
| GPR-1500 AIS UL_PPM Oxygen Analyzer, Certified Intrinsically Safe - UL Class I, Division1, Groups C and D_Aii | Aii1 VietNam, Aii VietNam, AII Vietnam |
| GPR-1500 AIS-LD ATEX_PPM Oxygen Analyzer, Liquid Drain Sample System, Certified Intrinsically Safe - ATEX II 2 G Ex d [ib] ib IIB T4_Aii | Aii1 VietNam, Aii VietNam, AII Vietnam |
| GPR-1500 AIS-LD UL_PPM Oxygen Analyzer, Liquid Drain Sample System, Certified Intrinsically Safe - UL Class I, Division 1, Groups C and D_Aii | Aii1 VietNam, Aii VietNam, AII Vietnam |
| GPR-1500 ATEX_PPM Oxygen Transmitter, External Barriers, Certified Intrinsically Safe - ATEX II 2 G Ex ia IIB T4 -20C to +50C_Aii | Aii1 VietNam, Aii VietNam, AII Vietnam |
| GPR-1500 D_Two Wire Loop Powered PPM OxygenTransmitter 12-24 VDC_Aii | Aii1 VietNam, Aii VietNam, AII Vietnam |
| GPR-1500 D ATEX_PPM Oxygen Transmitter, External Barriers, Certified Intrinsically Safe - ATEX II 2 G Ex ia IIB T4 -20C to +50C_Aii | Aii1 VietNam, Aii VietNam, AII Vietnam |
| GPR-1500 DA_PPM Oxygen Analyzer, 2x Alarms_Aii | Aii1 VietNam, Aii VietNam, AII Vietnam |
| GPR-1500 DK_PPM Oxygen Transmitter, NEMA 4X Enclosure, Meets Standards for Class 1 Div 2_Aii | Aii1 VietNam, Aii VietNam, AII Vietnam |
| GPR-1500 DN_PPM Oxygen Transmitter, NEMA 4X Enclosure_Aii | Aii1 VietNam, Aii VietNam, AII Vietnam |
| GPR-1500 DN ATEX_PPM Oxygen Transmitter, NEMA 4X Enclosure, External Barriers, Intrinsically Safe II 2 G Ex ia IIB T4_Aii | Aii1 VietNam, Aii VietNam, AII Vietnam |
| GPR-1500 GB_PPM Oxygen Transmitter, Glove Box (with B-3170 Sample/Calibration Assembly)_Aii | Aii1 VietNam, Aii VietNam, AII Vietnam |
| GPR-1500 IS ATEX_PPM Oxygen Transmitter, Certified Intrinsically Safe - ATEX II 2 G Ex d [ib] ib IIB T4 -20C to +50C_Aii | Aii1 VietNam, Aii VietNam, AII Vietnam |
| GPR-1500 IS UL_PPM Oxygen Transmitter, Certified Intrinsically Safe - UL Class I, Division 1, Groups C and D_Aii | Aii1 VietNam, Aii VietNam, AII Vietnam |
| GPR-1500 IS-LD ATEX_PPM OxygenTransmitter, Liquid Drain Sample System, Certified Intrinsically Safe - ATEX II 2 G Ex d [ib] ib IIB T4_Aii_ANSS Vietnam | Aii1 VietNam, Aii VietNam, AII Vietnam |
| GPR-1500 IS-LD UL_PPM OxygenTransmitter, Liquid Drain Sample System, Certified Intrinsically Safe - UL Class I, Division 1, Groups C and D_Aii | Aii1 VietNam, Aii VietNam, AII Vietnam |
| GPR-1500 N_PPM Oxygen Transmitter, NEMA 4X Enclosure_Aii | Aii1 VietNam, Aii VietNam, AII Vietnam |
| GPR-1500 N ATEX_PPM Oxygen Transmitter, NEMA 4X Enclosure, External Barriers, Certified Intrinsically Safe - ATEX II 2 G Ex ia IIB T4_Aii | Aii1 VietNam, Aii VietNam, AII Vietnam |
| GPR-1500 PM_PPM Oxygen Transmitter, Panel Mount_Aii | Aii1 VietNam, Aii VietNam, AII Vietnam |
| GPR-16 MS W306-F_PPB Oxygen Analyzer, Wall Mount, 2nd Flowmeter_Aii | Aii1 VietNam, Aii VietNam, AII Vietnam |
| GPR-1600_PPM Oxygen Analyzer_Aii | Aii1 VietNam, Aii VietNam, AII Vietnam |
| GPR-1600 MS_PPB Oxygen Analyzer_Aii | Aii1 VietNam, Aii VietNam, AII Vietnam |
| GPR-1600 MS T_PPB Oxygen Analyzer, Delete Heater and Bypass Valve_Aii | Aii1 VietNam, Aii VietNam, AII Vietnam |
| GPR-1600 MS TO_PPB Oxygen Analyzer, Delete Heater and Bypass Valve_Aii | Aii1 VietNam, Aii VietNam, AII Vietnam |
| GPR-1600 MS W_PPB Oxygen Analyzer, Wall Mount_Aii | Aii1 VietNam, Aii VietNam, AII Vietnam |
| GPR-1600 MS W306_PPB Oxygen Analyzer_Aii | Aii1 VietNam, Aii VietNam, AII Vietnam |
| GPR-1600 MS WT_PPM Oxygen Analyzer, Wall Mount_Aii | Aii1 VietNam, Aii VietNam, AII Vietnam |
| GPR-1600 T_PPM Oxygen Analyzer, Delete Bypass Valve_Aii | Aii1 VietNam, Aii VietNam, AII Vietnam |
| GPR-1600 TO_PPM Oxygen Analyzer, Delete Bypass Valve_Aii | Aii1 VietNam, Aii VietNam, AII Vietnam |
| GPR-1600 UHP_PPB Oxygen Analyzer, Auto Zero/Cal/Pneumatic Valves for Sample and Span Inlets, Isolation, Bypass Loop, Integral Zero Scrubber; Remote USB/RS-232 Communications_Aii | Aii1 VietNam, Aii VietNam, AII Vietnam |
| GPR-1600 UHP B_PPB Oxygen Analyzer, Delete Span Inlet and Integral Zero Scrubber Valves_Aii | Aii1 VietNam, Aii VietNam, AII Vietnam |
| GPR-1600 W_PPM Oxygen Analyzer, Wall Mount_Aii | Aii1 VietNam, Aii VietNam, AII Vietnam |
| GPR-1600 W-AV_PPM Oxygen Analyzer, Wall Mount, Automated Sample, Span, Zero Inlet Valves_Aii | Aii1 VietNam, Aii VietNam, AII Vietnam |
| GPR-1600 W306_PPM Oxygen Analyzer_Aii | Aii1 VietNam, Aii VietNam, AII Vietnam |
| GPR-18_PPM Oxygen Analyzer, Meets Standards for Explosion Proof Class 1, Division 1, Groups B,C and D_Aii | Aii1 VietNam, Aii VietNam, AII Vietnam |
| GPR-18 ATEX_PPM Oxygen Analyzer, Certified Explosion Proof - ATEX II 2 G Ex d IIB or IIB+H2 T6 or T5_Aii | Aii1 VietNam, Aii VietNam, AII Vietnam |
| GPR-18 MS_PPB Oxygen Analyzer, Meets Standards for Explosion Proof Class 1, Division 1, Groups B,C and D_Aii | Aii1 VietNam, Aii VietNam, AII Vietnam |
| GPR-18 MS ATEX_PPB Oxygen Analyzer, Certified Explosion Proof - ATEX II 2 G Ex d IIB or IIB+H2 T6 or T5_Aii | Aii1 VietNam, Aii VietNam, AII Vietnam |
| GPR-1800 AIS ATEX_PPM Oxygen Analyzer, Certified Intrinsically Safe - ATEX II 2 G Ex d [ib] ib IIB T4_Aii | Aii1 VietNam, Aii VietNam, AII Vietnam |
| GPR-1800 AIS UL_PPM Oxygen Analyzer, Certified Intrinsically Safe - UL Class I, Division 1, Groups C and D_Aii | Aii1 VietNam, Aii VietNam, AII Vietnam |
| GPR-1800 AIS-LD ATEX_PPM Oxygen Analyzer, Liquid Drain Sample System, Certified Intrinsically Safe - ATEX II 2 G Ex d [ib] ib IIB T4_Aii | Aii1 VietNam, Aii VietNam, AII Vietnam |
| GPR-1800 AIS-LD UL_PPM Oxygen Analyzer, Liquid Drain Sample System, Certified Intrinsically Safe - UL Class I, Division 1, Groups C and D_Aii | Aii1 VietNam, Aii VietNam, AII Vietnam |
| GPR-1800 IS ATEX_PPM Oxygen Transmitter, Certified Intrinsically Safe - ATEX II 2 G Ex d [ib] ib IIB T4_Aii | Aii1 VietNam, Aii VietNam, AII Vietnam |
| GPR-1800 IS UL_PPM Oxygen Transmitter, Certified Intrinsically Safe - Ul Class I, Division 1, Groups C and D_Aii | Aii1 VietNam, Aii VietNam, AII Vietnam |
| GPR-1800 IS-LD ATEX_PPM Oxygen Transmitter, Liquid Drain Sample System, Certified Intrinsically Safe - ATEX II 2 G Ex d [ib] ib IIB T4_Aii | Aii1 VietNam, Aii VietNam, AII Vietnam |
| GPR-1800 IS-LD UL_PPM Oxygen Transmitter, Liquid Drain Sample System, Certified Intrinsically Safe - UL Class I, Division 1, Groups C and D_Aii | Aii1 VietNam, Aii VietNam, AII Vietnam |
| GPR-1900_PPM Oxygen Analyzer_Aii | Aii1 VietNam, Aii VietNam, AII Vietnam |
| GPR-1900 D_PPM Oxygen Analyzer_Aii | Aii1 VietNam, Aii VietNam, AII Vietnam |
| GPR-1900 MS_PPB Oxygen Analyzer_Aii | Aii1 VietNam, Aii VietNam, AII Vietnam |
| GPR-2000_Portable Oxygen Analyzer_Aii | Aii1 VietNam, Aii VietNam, AII Vietnam |
| GPR-2000 ATEX_Portable Oxygen Analyzer, Certified Instrinsically Safe - ATEX II 2 G Ex ib IIB T4_Aii | Aii1 VietNam, Aii VietNam, AII Vietnam |
| GPR-2000 D_Oxygen Monitor, 2 Alarms_Aii | Aii1 VietNam, Aii VietNam, AII Vietnam |
| GPR-2000 P_Portable Oxygen Analyzer, Integral Pump_Aii | Aii1 VietNam, Aii VietNam, AII Vietnam |
| GPR-2000 P ATEX_Portable Oxygen Analyzer, Integral Pump, Certified Instrinsically Safe - ATEX II 2 G Ex ib IIB T4_Aii | Aii1 VietNam, Aii VietNam, AII Vietnam |
| GPR-2200 ATEX DL_Portable Oxygen Analyzer, Integral Data Logger, Flowmeter, Flow Control Valve, 1/8" SS Tube Fittings_Aii | Aii1 VietNam, Aii VietNam, AII Vietnam |
| GPR-25 XP_Oxygen Transmitter, Meets Standards for Explosion Proof, Class 1, Div 1, Grp B,C and D__Aii | Aii1 VietNam, Aii VietNam, AII Vietnam |
| GPR-2500_Oxygen Transmitter_Aii | Aii1 VietNam, Aii VietNam, AII Vietnam |
| GPR-2500 A_Oxygen Transmitter with Alarms_Aii | Aii1 VietNam, Aii VietNam, AII Vietnam |
| GPR-2500 A MO_Oxygen Purity Analyzer, 2x Alarms_Aii | Aii1 VietNam, Aii VietNam, AII Vietnam |
| GPR-2500 AIS ATEX_Oxygen Analyzer, Certified Intrinsically Safe - ATEX II 2 G Ex d [ib] ib IIB T4_Aii | Aii1 VietNam, Aii VietNam, AII Vietnam |
| GPR-2500 AIS UL_Oxygen Analyzer, Certified Intrinsically Safe - UL Class I, Division 1, Groups C and D_Aii | Aii1 VietNam, Aii VietNam, AII Vietnam |
| GPR-2500 AIS-LD ATEX_Oxygen Analyzer, Liquid Drain System, Certified Intrinsically Safe - ATEX II 2 G Ex d [ib] ib IIB T4_Aii | Aii1 VietNam, Aii VietNam, AII Vietnam |
| GPR-2500 AIS-LD UL_Oxygen Analyzer, Liquid Drain System, Certified Intrinsically Safe - UL Class I, Division 1, Groups C and D_Aii | Aii1 VietNam, Aii VietNam, AII Vietnam |
| GPR-2500 ATEX_Oxygen Transmitter, External Barriers, Certified Intrinsically Safe - ATEX II 2 G Ex ia IIB T4_Aii | Aii1 VietNam, Aii VietNam, AII Vietnam |
| GPR-2500 DK_Oxygen Transmitter, NEMA 4X Enclosure, Meets Standards for Class 1 Div 2_Aii | Aii1 VietNam, Aii VietNam, AII Vietnam |
| GPR-2500 GB_Oxygen Transmitter, Integral Sensor (optional B-3170 Sample/Calibration Assembly)_Aii | Aii1 VietNam, Aii VietNam, AII Vietnam |
| GPR-2500 IS ATEX_Oxygen Transmitter, Certified Intrinsically Safe - ATEX II 2 G Ex d [ib] ib IIB T4_Aii | Aii1 VietNam, Aii VietNam, AII Vietnam |
| GPR-2500 IS UL_Oxygen Transmitter, Certified Intrinsically Safe - UL Class I, Division 1, Groups C and D_Aii | Aii1 VietNam, Aii VietNam, AII Vietnam |
| GPR-2500 IS-LD ATEX_Oxygen Transmitter, Liquid Drain System, Certified Intrinsically Safe - ATEX II 2 G Ex d [ib] ib IIB T4_Aii | Aii1 VietNam, Aii VietNam, AII Vietnam |
| GPR-2500 IS-LD UL_Oxygen Transmitter, Liquid Drain System, Certified Intrinsically Safe - UL Class I, Division 1, Groups C and D_Aii | Aii1 VietNam, Aii VietNam, AII Vietnam |
| GPR-2500 KAI_Oxygen Transmitter_Aii | Aii1 VietNam, Aii VietNam, AII Vietnam |
| GPR-2500 MO_Oxygen Purity Transmitter_Aii | Aii1 VietNam, Aii VietNam, AII Vietnam |
| GPR-2500 MO N_Oxygen Purity Transmitter, NEMA 4X Enclosure_Aii | Aii1 VietNam, Aii VietNam, AII Vietnam |
| GPR-2500 N_Oxygen Transmitter, NEMA 4X Wall Mount_Aii | Aii1 VietNam, Aii VietNam, AII Vietnam |
| GPR-2500 N ATEX_Oxygen Transmitter, NEMA 4X Wall Mount, External Barriers, Certified Intrinsically Safe - ATEX II 2 G Ex ia IIB T4_Aii | Aii1 VietNam, Aii VietNam, AII Vietnam |
| GPR-2500 S_Ambient Oxygen Monitor_Aii | Aii1 VietNam, Aii VietNam, AII Vietnam |
| GPR-2500 S ATEX_Ambient Oxygen Monitor, External Barriers, Certified Intrinsically Safe - ATEX II 2 G Ex ia IIB T4_Aii | Aii1 VietNam, Aii VietNam, AII Vietnam |
| GPR-2500 SB_Oxygen Transmitter_Aii | Aii1 VietNam, Aii VietNam, AII Vietnam |
| GPR-2500 SN_Ambient Oxygen Monitor, NEMA 4X Enclosure_Aii | Aii1 VietNam, Aii VietNam, AII Vietnam |
| GPR-2500 SN ATEX_Ambient Oxygen Monitor, NEMA 4X Enclosure, External Barriers, Certified Intrinsically Safe - ATEX II 2 G Ex ia IIB T4_Aii | Aii1 VietNam, Aii VietNam, AII Vietnam |
| GPR-2600_Oxygen Analyzer_Aii | Aii1 VietNam, Aii VietNam, AII Vietnam |
| GPR-2600 W_Oxygen Analyzer, Wall Mount_Aii | Aii1 VietNam, Aii VietNam, AII Vietnam |
| GPR-28_Oxygen Analyzer, Meets Standards for Explosion Proof Class 1, Division 1, Groups B,C and D_Aii | Aii1 VietNam, Aii VietNam, AII Vietnam |
| GPR-28 ATEX_Oxygen Analyzer, Certified Explosion Proof - ATEX II 2 G Ex d IIB or IIB+H2 T6 or T5_Aii | Aii1 VietNam, Aii VietNam, AII Vietnam |
| GPR-2800 AIS_Analyzer System consisting of sample pump & switch, coalescing filter, 1/8" flexible tubing, SS tubing inserts, 20 terminals, manual valves, fiberglass enclosur_Aii | Aii1 VietNam, Aii VietNam, AII Vietnam |
| GPR-2800 AIS ATEX_Oxygen Analyzer, Certified Intrinsically Safe - ATEX II 2 G Ex d [ib] ib IIB T4_Aii | Aii1 VietNam, Aii VietNam, AII Vietnam |
| GPR-2800 AIS S ATEX_Ambient Oxygen Analyzer, Certified Intrinsically Safe - ATEX II 2 G Ex d [ib] ib IIB T4_Aii | Aii1 VietNam, Aii VietNam, AII Vietnam |
| GPR-2800 AIS S UL_Ambient Oxygen Analyzer, Certified Intrinsically Safe - UL Class I, Division 1, Groups C and D or ATEX II 2 G Ex d [ib] ib IIB T4_Aii | Aii1 VietNam, Aii VietNam, AII Vietnam |
| GPR-2800 AIS UL_Oxygen Analyzer, Certified Intrinsically Safe - UL Class I, Division 1, Groups C and D_Aii | Aii1 VietNam, Aii VietNam, AII Vietnam |
| GPR-2800 AIS-LD ATEX_Oxygen Analyzer, Liquid Drain System, Certified Intrinsically Safe - ATEX II 2 G Ex d [ib] ib IIB T4_Aii | Aii1 VietNam, Aii VietNam, AII Vietnam |
| GPR-2800 AIS-LD UL_Oxygen Analyzer, Liquid Drain System, Certified Intrinsically Safe - UL Class I, Division 1, Groups C and D_Aii | Aii1 VietNam, Aii VietNam, AII Vietnam |
| GPR-2800 IS ATEX_Oxygen Transmitter, Certified Intrinsically Safe - ATEX II 2 G Ex d [ib] ib IIB T4_Aii | Aii1 VietNam, Aii VietNam, AII Vietnam |
| GPR-2800 IS S ATEX_Ambient Oxygen Transmitter, Certified Intrinsically Safe - ATEX II 2 G Ex d [ib] ib IIB T4_Aii | Aii1 VietNam, Aii VietNam, AII Vietnam |
| GPR-2800 IS S UL_Ambient Oxygen Transmitter, Certified Intrinsically Safe - UL Class I, Division 1, Groups C and D_Aii | Aii1 VietNam, Aii VietNam, AII Vietnam |
| GPR-2800 IS UL_Oxygen Transmitter, Certified Intrinsically Safe - UL Class I, Division 1, Groups C and D_Aii | Aii1 VietNam, Aii VietNam, AII Vietnam |
| GPR-2800 IS-LD ATEX_Oxygen Transmitter, Liquid Drain System, Certified Intrinsically Safe - ATEX II 2 G Ex d [ib] ib IIB T4_Aii | Aii1 VietNam, Aii VietNam, AII Vietnam |
| GPR-2800 IS-LD UL_Oxygen Transmitter, Liquid Drain System, Certified Intrinsically Safe - UL Class I, Division 1, Groups C and D_Aii | Aii1 VietNam, Aii VietNam, AII Vietnam |
| GPR-2900_Oxygen Analyzer_Aii | Aii1 VietNam, Aii VietNam, AII Vietnam |
| GPR-2900 W_Oxygen Analyzer, Wall Mount_Aii | Aii1 VietNam, Aii VietNam, AII Vietnam |
| GPR-3000 T_PPM Oxygen Analyzer, Delete Bypass Valve_Aii | Aii1 VietNam, Aii VietNam, AII Vietnam |
| GPR-3100_Oxygen Purity Analyzer_Aii | Aii1 VietNam, Aii VietNam, AII Vietnam |
Technical Specifications
AII-3000
Palm O

2

Palm CO Analyzer
Measurement range
0-100% oxygen
0-25 ppm CO
Accuracy
< ±2% of FS range under constant conditions
< ±2 ppm under constant conditions
Response time
T90 < 10 seconds
T90 < 30 seconds
Sensitivity (LDL)
0.50%
0.5 ppm CO
Linearity
±1% under constant conditions
Sensor model
AII-11-60 (remote sensor)
AII-11-60-HC
AII-11-75-PO2
AII-11-75-PO2-D (for diving)
OSV-22-AF