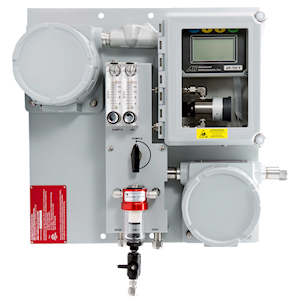 Máy phân tích khí Hydrogen Sulphide Analyzers
Xuất sứ: USA
Nhà cung cấp: Aii/Aii1
Hãng sản xuất: Aii
Ứng dụng sản phẩm: Process
Liên hệ tư vấn

Mr Hương

huong@ansgroup.asia

0984.359.334

live:huong_237
Đại lý phân phối chính thức Hãng AII tại Việt Nam - Aii Vietnam - ANS Vietnam - Đại lý AII, Aii Vietnam, Aii1 Vietnam
Qúy khách có nhu cầu vui lòng liên hệ để được hỗ trợ tư vấn kỹ thuật và giá tốt nhất :
Đặng Văn Hương I Huong Mr. I
===========================
I cellphone I +84 984.359.334
I email I huong@ansgroup.asia
The GPR-7500 analyzer utilizes the low-power electro-chemical sensor technology to provide a cost-effective and easy to maintain online-installation hydrogen sulfide measurement in a small package. The GPR-7100 is a portable H2S analyzer version preferably used for spot checking the process or temporary usage during servicing or commissioning of an permanent installation gas analyzer. These advanced instruments from AII are agency approved for use in flammable gas streams.
List Code :
| | |
| --- | --- |
| GPR-7100_Portable PPM H2S Analyzer, Meets Standards for ATEX II 2 G Ex d [ib] ib IIB T4_Aii | Aii1 VietNam, Aii VietNam, AII Vietnam |
| GPR-7500 AIS ATEX_PPM H2S Analyzer, Certified Intrinsically Safe - ATEX II 2 G Ex d [ib] ib IIB T4_Aii | Aii1 VietNam, Aii VietNam, AII Vietnam |
| GPR-7500 AIS UL_PPM H2S Analyzer, Certified Intrinsically Safe - UL Class 1, Division 1, Groups C and D_Aii | Aii1 VietNam, Aii VietNam, AII Vietnam |
| GPR-7500 AIS UL DPE_PPM H2S Analyzer, Certified Intrinsically Safe - UL Class 1, Division 1, Groups C and D_Aii | Aii1 VietNam, Aii VietNam, AII Vietnam |
| GPR-7500 AIS-LD ATEX_PPM H2S Analyzer, Liquid Drain, Certified Intrinsically Safe - ATEX II 2 G Ex d [ib] ib IIB T4_Aii | Aii1 VietNam, Aii VietNam, AII Vietnam |
| GPR-7500 AIS-LD UL_PPM H2S Analyzer, Liquid Drain Certified Intrinsically Safe - UL Class 1, Division 1, Groups C and D_Aii | Aii1 VietNam, Aii VietNam, AII Vietnam |
| GPR-7500 AIS-SB ATEX_PPM H2S Analyzer, Certified Intrinsically Safe - ATEX II 2 G Ex d [ib] ib IIB T4, Span Bottle Mount_Aii | Aii1 VietNam, Aii VietNam, AII Vietnam |
| GPR-7500 AIS-SB UL_PPM H2S Analyzer, cUL Certified Intrinsically Safe Class 1, Division 1, Groups C and D, Span Bottle Mount_Aii | Aii1 VietNam, Aii VietNam, AII Vietnam |
| GPR-7500 AISAMB ATEX_Ambient H2S Analyzer, ATEX Certified_Aii | Aii1 VietNam, Aii VietNam, AII Vietnam |
| GPR-7500 AISAMB cUL_Ambient H2S Analyzer, cUL Certified_Aii | Aii1 VietNam, Aii VietNam, AII Vietnam |
| GPR-7500 IS ATEX_PPM H2S Transmitter, Certified Intrinsically Safe - ATEX II 2 G Ex d [ib] ib IIB T4_Aii | Aii1 VietNam, Aii VietNam, AII Vietnam |
| GPR-7500 IS UL_PPM H2S Transmitter, Certified Intrinsically Safe - UL Class 1, Division 1, Groups C and D_Aii | Aii1 VietNam, Aii VietNam, AII Vietnam |
| GPR-KF40_Oxygen Transmitter (ref A-3818, optional A-4005 Flow Adapter)_Aii | Aii1 VietNam, Aii VietNam, AII Vietnam |
| GPR-KF40-12PPM Oxygen Transmitter (ref A-3818, optional A-4005 Flow Adapter)_Aii | Aii1 VietNam, Aii VietNam, AII Vietnam |
| OEM-15 D_PPM Oxygen Transmitter OEM Package (A-1112C-M, GPR-12-100-4, A-2910-1, A-2221)_Aii | Aii1 VietNam, Aii VietNam, AII Vietnam |
| OEM-15 D GB_Glove Box PPM Oxygen Transmitter OEM Package (A-1112C-M, GPR-12-100-M, B-3170, A-2910, A-2196)_Aii | Aii1 VietNam, Aii VietNam, AII Vietnam |
| OEM-15 D NG_Nitrogen Generator PPM Oxygen Transmitter OEM Package (A-1112C-M, GPR-12-100-4, CONN-1014, A-3051)_Aii | Aii1 VietNam, Aii VietNam, AII Vietnam |
| OEM-15 EIS-G_PPM Oxygen Transmitter OEM Package (A-1112C-M w/Display, GPR-12-333)_Aii | Aii1 VietNam, Aii VietNam, AII Vietnam |
| OEM-15 EIS-P_PPM Oxygen Transmitter OEM Package (A-1112C-M w/Display, PSR-12-223)_Aii | Aii1 VietNam, Aii VietNam, AII Vietnam |
| OEM-15-1 D_PPM Oxygen Transmitter OEM Package (A-1112C-M, GPR-12-100-4, Cable Connectors)_Aii | Aii1 VietNam, Aii VietNam, AII Vietnam |
| OEM-1500 A MB_PPM Oxygen Analyzer with Modbus_Aii | Aii1 VietNam, Aii VietNam, AII Vietnam |
| OEM-1500 SR_Glove Box PPM Oxygen Transmitter OEM Package (A-1161-B-IS-1 Rev C3, A-1182-1 Rev B, GPR-12-333, A-1004-2-14, MTR-1010)_Aii | Aii1 VietNam, Aii VietNam, AII Vietnam |
| OEM-25 GB_Glove Box Oxygen Transmitter OEM Package (A-1112C-C, GPR-11-32-M, B-3170, A-2910, A-2196)_Aii | Aii1 VietNam, Aii VietNam, AII Vietnam |
| OEM-25 NG_Nitrogen Generator Oxygen Transmitter OEM Package (A-1112C-C, GPR-11-32-4, CONN-1014, A-3051)_Aii | Aii1 VietNam, Aii VietNam, AII Vietnam |
| OEM-31 NG_Nitrogen Generator Oxygen Purity Transmitter OEM Package (A-1112C-OP, GPR-11-120-4, CONN-1014, A-3051)_Aii | Aii1 VietNam, Aii VietNam, AII Vietnam |
| OEM-7500 A MB_PPM H2S Analyzer, Modbus_Aii | Aii1 VietNam, Aii VietNam, AII Vietnam |
| OEM-7500 MOD_PPM H2S Analyzer, OEM Modbus Package_Aii | Aii1 VietNam, Aii VietNam, AII Vietnam |
| Palm O2 PRX_Oxygen Analyzer, Extension Rod, External Sensor (Includes: AII-11-75-PO2 RI Oxygen Sensor and 2x BATT-1008 installed; Manual); optional Carrying Case ENCL-1114_Aii | Aii1 VietNam, Aii VietNam, AII Vietnam |
| Palm O2-I_Oxygen Analyzer, Industrial (Includes: AII-11-75-PO2 I Oxygen Sensor and 2x BATT-1008 installed; Manual)_Aii | Aii1 VietNam, Aii VietNam, AII Vietnam |
| Palm O2-IR_Oxygen Analyzer (Includes: AII-11-75-PO2R I Oxygen Sensor, A-3654, CABL-1009, 2x BATT-1008 installed; Manual)_Aii | Aii1 VietNam, Aii VietNam, AII Vietnam |
| Palm O2-W_Oxygen Analyzer Welding (Includes: AII-11-75-PO2 W Oxygen Sensor and 2x BATT-1008 installed; Manual)_Aii | Aii1 VietNam, Aii VietNam, AII Vietnam |
| Palm O2-WR_Oxygen Analyzer (Includes: AII-11-75-PO2R W Oxygen Sensor, A-3654, CABL-1009, 2x BATT-1008 installed; Manual)_Aii | Aii1 VietNam, Aii VietNam, AII Vietnam |
| | |
| --- | --- |
| GPR-2800 AIS S UL_Ambient Oxygen Analyzer, Certified Intrinsically Safe - UL Class I, Division 1, Groups C and D or ATEX II 2 G Ex d [ib] ib IIB T4_Aii | Aii1 VietNam, Aii VietNam, AII Vietnam |
| GPR-2800 AIS UL_Oxygen Analyzer, Certified Intrinsically Safe - UL Class I, Division 1, Groups C and D_Aii | Aii1 VietNam, Aii VietNam, AII Vietnam |
| GPR-2800 AIS-LD ATEX_Oxygen Analyzer, Liquid Drain System, Certified Intrinsically Safe - ATEX II 2 G Ex d [ib] ib IIB T4_Aii | Aii1 VietNam, Aii VietNam, AII Vietnam |
| GPR-2800 AIS-LD UL_Oxygen Analyzer, Liquid Drain System, Certified Intrinsically Safe - UL Class I, Division 1, Groups C and D_Aii | Aii1 VietNam, Aii VietNam, AII Vietnam |
| GPR-2800 IS ATEX_Oxygen Transmitter, Certified Intrinsically Safe - ATEX II 2 G Ex d [ib] ib IIB T4_Aii | Aii1 VietNam, Aii VietNam, AII Vietnam |
| GPR-2800 IS S ATEX_Ambient Oxygen Transmitter, Certified Intrinsically Safe - ATEX II 2 G Ex d [ib] ib IIB T4_Aii | Aii1 VietNam, Aii VietNam, AII Vietnam |
| GPR-2800 IS S UL_Ambient Oxygen Transmitter, Certified Intrinsically Safe - UL Class I, Division 1, Groups C and D_Aii | Aii1 VietNam, Aii VietNam, AII Vietnam |
| GPR-2800 IS UL_Oxygen Transmitter, Certified Intrinsically Safe - UL Class I, Division 1, Groups C and D_Aii | Aii1 VietNam, Aii VietNam, AII Vietnam |
| GPR-2800 IS-LD ATEX_Oxygen Transmitter, Liquid Drain System, Certified Intrinsically Safe - ATEX II 2 G Ex d [ib] ib IIB T4_Aii | Aii1 VietNam, Aii VietNam, AII Vietnam |
| GPR-2800 IS-LD UL_Oxygen Transmitter, Liquid Drain System, Certified Intrinsically Safe - UL Class I, Division 1, Groups C and D_Aii | Aii1 VietNam, Aii VietNam, AII Vietnam |
| GPR-2900_Oxygen Analyzer_Aii | Aii1 VietNam, Aii VietNam, AII Vietnam |
| GPR-2900 W_Oxygen Analyzer, Wall Mount_Aii | Aii1 VietNam, Aii VietNam, AII Vietnam |
| GPR-3000 T_PPM Oxygen Analyzer, Delete Bypass Valve_Aii | Aii1 VietNam, Aii VietNam, AII Vietnam |
| GPR-3100_Oxygen Purity Analyzer_Aii | Aii1 VietNam, Aii VietNam, AII Vietnam |
| GPR-3100 W_Oxygen Purity Analyzer, Wall Mount_Aii | Aii1 VietNam, Aii VietNam, AII Vietnam |
| GPR-35_Ambient Oxygen Monitor_Aii | Aii1 VietNam, Aii VietNam, AII Vietnam |
| GPR-35 CSA_Ambient Oxygen Monitor, CSA Certified_Aii | Aii1 VietNam, Aii VietNam, AII Vietnam |
| GPR-35 PRX_Oxygen Monitor (GPR-11-60-4R O2 Sensor, CONN-1014-5 Connector Cable 50 ft, 2x CABL-1012 Cable Strain Relief)_Aii | Aii1 VietNam, Aii VietNam, AII Vietnam |
Technical Specifications
7100
7500 IS
7500 IS -LD
7500 AIS
7500 AIS LD
7500 AIS-S
7500 IS-S
Measurement range
0-20, 0-50, 0-100 ppm
0-20, 0-50, 0-100 ppm (standard ranges)
0-500, 0-1000, 0-2000 ppm (optional ranges)
0-20, 0-50, 0-100 ppm
Accuracy
±2% of selected range at constant conditions
Response time
T90 < 60 seconds
Sensitivity (LDL)
0.1 ppm
Linearity
<2% of scale
Sensor model
OSV-72-7HH-LM (standard ranges)
OSV-72-7HH (standard ranges), OSV-72-7HH-LD
OSV-72-7H (up to 2000 ppm), OSV-72-7H-LD
OSV-72-7HH-LM (standard ranges)