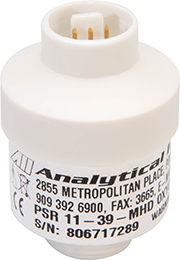 Cảm biến Oxy Oxygen sensor
Xuất sứ: USA
Nhà cung cấp: Aii/Aii1
Hãng sản xuất: Aii
Ứng dụng sản phẩm: Diving Products
Liên hệ tư vấn

Mr Hương

huong@ansgroup.asia

0984.359.334

live:huong_237
Đại lý phân phối chính thức Hãng AII tại Việt Nam - Aii Vietnam - ANS Vietnam - Đại lý AII, Aii Vietnam, Aii1 Vietnam
Qúy khách có nhu cầu vui lòng liên hệ để được hỗ trợ tư vấn kỹ thuật và giá tốt nhất :
Đặng Văn Hương I Huong Mr. I
===========================
I cellphone I +84 984.359.334
I email I huong@ansgroup.asia
Cochran Lifeguard
Megalodon
Juergensen Marine Hammerhead
IT Gambert D-05
Advanced galvanic type % oxygen sensor with excellent stability and accuracy under stringent applications. All % oxygen sensor are subjected to the most extensive stability test, output in air, 30" of water column pressure test and stability at 100% oxygen. The widest range of oxygen sensors offered by Analytical Industries, Inc. are "Made in USA"
List Code :
| | |
| --- | --- |
| Oxygen Sensor_B1SA_Aii (Advanced Instrument Inc) | Aii1 VietNam, AII VietNam |
| Oxygen Sensor_GPR-11-233-H_Aii (Advanced Instrument Inc) | Aii1 VietNam, AII VietNam |
| Oxygen Sensor_GPR-11-37-4_Aii (Advanced Instrument Inc) | Aii1 VietNam, AII VietNam |
| Oxygen Sensor_GPR-11-37-I_Aii (Advanced Instrument Inc) | Aii1 VietNam, AII VietNam |
| Oxygen Sensor_GPR-11-917-J_Aii (Advanced Instrument Inc) | Aii1 VietNam, AII VietNam |
| Oxygen Sensor_GPR-11-917-M_Aii (Advanced Instrument Inc) | Aii1 VietNam, AII VietNam |
| Oxygen Sensor_PSR-11-21_Aii (Advanced Instrument Inc) | Aii1 VietNam, AII VietNam |
| Oxygen Sensor_PSR-11-213_Aii (Advanced Instrument Inc) | Aii1 VietNam, AII VietNam |
| Oxygen Sensor_PSR-11-23_Aii (Advanced Instrument Inc) | Aii1 VietNam, AII VietNam |
| Oxygen Sensor_PSR-11-233_Aii (Advanced Instrument Inc) | Aii1 VietNam, AII VietNam |
| Oxygen Sensor_PSR-11-33-JL_Aii (Advanced Instrument Inc) | Aii1 VietNam, AII VietNam |
| Oxygen Sensor_PSR-11-25_Aii (Advanced Instrument Inc) | Aii1 VietNam, AII VietNam |
| Oxygen Sensor_PSR-11-330_Aii (Advanced Instrument Inc) | Aii1 VietNam, AII VietNam |
| Oxygen Sensor_PSR-11-39_Aii (Advanced Instrument Inc) | Aii1 VietNam, AII VietNam |
| Oxygen Sensor_PSR-11-52_Aii (Advanced Instrument Inc) | Aii1 VietNam, AII VietNam |
| Oxygen Sensor_PSR-11-54_Aii (Advanced Instrument Inc) | Aii1 VietNam, AII VietNam |
| Oxygen Sensor_PSR-11-54-3_Aii (Advanced Instrument Inc) | Aii1 VietNam, AII VietNam |
| Oxygen Sensor_PSR-11-75-KE_Aii (Advanced Instrument Inc) | Aii1 VietNam, AII VietNam |
| Oxygen Sensor_PSR-11-75-KE10_Aii (Advanced Instrument Inc) | Aii1 VietNam, AII VietNam |
| Oxygen Sensor_PSR-11-75-KE12_Aii (Advanced Instrument Inc) | Aii1 VietNam, AII VietNam |
| Oxygen Sensor_PSR-11-75-KE13PB_Aii (Advanced Instrument Inc) | Aii1 VietNam, AII VietNam |
| Oxygen Sensor_PSR-11-75-KE250A_Aii (Advanced Instrument Inc) | Aii1 VietNam, AII VietNam |
| Oxygen Sensor_PSR-11-75-KEF3_Aii (Advanced Instrument Inc) | Aii1 VietNam, AII VietNam |
| Oxygen Sensor_PSR-11-75-KEF4_Aii (Advanced Instrument Inc) | Aii1 VietNam, AII VietNam |
| Oxygen Sensor_PSR-11-75-KEFR_Aii (Advanced Instrument Inc) | Aii1 VietNam, AII VietNam |
| Oxygen Sensor_PSR-11-75-KEFR-NC_Aii (Advanced Instrument Inc) | Aii1 VietNam, AII VietNam |
| Oxygen Sensor_PSR-11-77 Ind_Aii (Advanced Instrument Inc) | Aii1 VietNam, AII VietNam |
| Oxygen Sensor_PSR-11-OX-3_Aii (Advanced Instrument Inc) | Aii1 VietNam, AII VietNam |
| ppm Oxygen Sensor_PSR-12-223_Aii (Advanced Instrument Inc) | Aii1 VietNam, AII VietNam |
| ppm Oxygen Sensor_PSR-12-223-H_Aii (Advanced Instrument Inc) | Aii1 VietNam, AII VietNam |
| ppm Oxygen Sensor_PSR-12-223-IT_Aii (Advanced Instrument Inc) | Aii1 VietNam, AII VietNam |
| ppm Oxygen Sensor_PSR-12-223-L_Aii (Advanced Instrument Inc) | Aii1 VietNam, AII VietNam |
| Oxygen Sensor_PSR-12-223-L_Aii (Advanced Instrument Inc) | Aii1 VietNam, AII VietNam |
| Oxygen Sensor_PSR-12-243_Aii (Advanced Instrument Inc) | Aii1 VietNam, AII VietNam |
| Oxygen Sensor_PSR-12-OX-1_Aii (Advanced Instrument Inc) | Aii1 VietNam, AII VietNam |
| Oxygen Sensor_SAF-11-02-I_Aii (Advanced Instrument Inc) | Aii1 VietNam, AII VietNam |
| Oxygen Sensor_XLT-11-15_Aii (Advanced Instrument Inc) | Aii1 VietNam, AII VietNam |
| Oxygen Sensor_XLT-11-15-EC_Aii (Advanced Instrument Inc) | Aii1 VietNam, AII VietNam |
| Oxygen Sensor_XLT-11-1513_Aii (Advanced Instrument Inc) | Aii1 VietNam, AII VietNam |
| Oxygen Sensor_XLT-11-1523_Aii (Advanced Instrument Inc) | Aii1 VietNam, AII VietNam |
| Oxygen Sensor_XLT-11-153_Aii (Advanced Instrument Inc) | Aii1 VietNam, AII VietNam |
| Oxygen Sensor_XLT-11-39_Aii (Advanced Instrument Inc) | Aii1 VietNam, AII VietNam |
| Oxygen Sensor_XLT-11-52_Aii (Advanced Instrument Inc) | Aii1 VietNam, AII VietNam |
| Oxygen Sensor_XLT-11-75-KE_Aii (Advanced Instrument Inc) | Aii1 VietNam, AII VietNam |
| Oxygen Sensor_XLT-11-75-KE3_Aii (Advanced Instrument Inc) | Aii1 VietNam, AII VietNam |
| Oxygen Sensor_XLT-11-75-KEF3_Aii (Advanced Instrument Inc) | Aii1 VietNam, AII VietNam |
| Oxygen Sensor_XLT-11-OX-4_Aii (Advanced Instrument Inc) | Aii1 VietNam, AII VietNam |
| ppm Oxygen Sensor_XLT-12-123_Aii (Advanced Instrument Inc) | Aii1 VietNam, AII VietNam |
| ppm Oxygen Sensor_XLT-12-123 L2_Aii (Advanced Instrument Inc) | Aii1 VietNam, AII VietNam |
| ppm Oxygen Sensor_XLT-12-123-IT_Aii (Advanced Instrument Inc) | Aii1 VietNam, AII VietNam |
| ppm Oxygen Sensor_XLT-12-123-T2_Aii (Advanced Instrument Inc) | Aii1 VietNam, AII VietNam |
| ppm Oxygen Sensor_XLT-12-OX-2_Aii (Advanced Instrument Inc) | Aii1 VietNam, AII VietNam |
| | |
| --- | --- |
| GPR-1500 DA_PPM Oxygen Analyzer, 2x Alarms_Aii | Aii1 VietNam, Aii VietNam, AII Vietnam |
| GPR-1500 DK_PPM Oxygen Transmitter, NEMA 4X Enclosure, Meets Standards for Class 1 Div 2_Aii | Aii1 VietNam, Aii VietNam, AII Vietnam |
| GPR-1500 DN_PPM Oxygen Transmitter, NEMA 4X Enclosure_Aii | Aii1 VietNam, Aii VietNam, AII Vietnam |
| GPR-1500 DN ATEX_PPM Oxygen Transmitter, NEMA 4X Enclosure, External Barriers, Intrinsically Safe II 2 G Ex ia IIB T4_Aii | Aii1 VietNam, Aii VietNam, AII Vietnam |
| GPR-1500 GB_PPM Oxygen Transmitter, Glove Box (with B-3170 Sample/Calibration Assembly)_Aii | Aii1 VietNam, Aii VietNam, AII Vietnam |
| GPR-1500 IS ATEX_PPM Oxygen Transmitter, Certified Intrinsically Safe - ATEX II 2 G Ex d [ib] ib IIB T4 -20C to +50C_Aii | Aii1 VietNam, Aii VietNam, AII Vietnam |
| GPR-1500 IS UL_PPM Oxygen Transmitter, Certified Intrinsically Safe - UL Class I, Division 1, Groups C and D_Aii | Aii1 VietNam, Aii VietNam, AII Vietnam |
| GPR-1500 IS-LD ATEX_PPM OxygenTransmitter, Liquid Drain Sample System, Certified Intrinsically Safe - ATEX II 2 G Ex d [ib] ib IIB T4_Aii_ANSS Vietnam | Aii1 VietNam, Aii VietNam, AII Vietnam |
| GPR-1500 IS-LD UL_PPM OxygenTransmitter, Liquid Drain Sample System, Certified Intrinsically Safe - UL Class I, Division 1, Groups C and D_Aii | Aii1 VietNam, Aii VietNam, AII Vietnam |
| GPR-1500 N_PPM Oxygen Transmitter, NEMA 4X Enclosure_Aii | Aii1 VietNam, Aii VietNam, AII Vietnam |
| GPR-1500 N ATEX_PPM Oxygen Transmitter, NEMA 4X Enclosure, External Barriers, Certified Intrinsically Safe - ATEX II 2 G Ex ia IIB T4_Aii | Aii1 VietNam, Aii VietNam, AII Vietnam |
| GPR-1500 PM_PPM Oxygen Transmitter, Panel Mount_Aii | Aii1 VietNam, Aii VietNam, AII Vietnam |
| GPR-16 MS W306-F_PPB Oxygen Analyzer, Wall Mount, 2nd Flowmeter_Aii | Aii1 VietNam, Aii VietNam, AII Vietnam |
| GPR-1600_PPM Oxygen Analyzer_Aii | Aii1 VietNam, Aii VietNam, AII Vietnam |
| GPR-1600 MS_PPB Oxygen Analyzer_Aii | Aii1 VietNam, Aii VietNam, AII Vietnam |
| GPR-1600 MS T_PPB Oxygen Analyzer, Delete Heater and Bypass Valve_Aii | Aii1 VietNam, Aii VietNam, AII Vietnam |
| GPR-1600 MS TO_PPB Oxygen Analyzer, Delete Heater and Bypass Valve_Aii | Aii1 VietNam, Aii VietNam, AII Vietnam |
| GPR-1600 MS W_PPB Oxygen Analyzer, Wall Mount_Aii | Aii1 VietNam, Aii VietNam, AII Vietnam |
| GPR-1600 MS W306_PPB Oxygen Analyzer_Aii | Aii1 VietNam, Aii VietNam, AII Vietnam |
| GPR-1600 MS WT_PPM Oxygen Analyzer, Wall Mount_Aii | Aii1 VietNam, Aii VietNam, AII Vietnam |
| GPR-1600 T_PPM Oxygen Analyzer, Delete Bypass Valve_Aii | Aii1 VietNam, Aii VietNam, AII Vietnam |
| GPR-1600 TO_PPM Oxygen Analyzer, Delete Bypass Valve_Aii | Aii1 VietNam, Aii VietNam, AII Vietnam |
| GPR-1600 UHP_PPB Oxygen Analyzer, Auto Zero/Cal/Pneumatic Valves for Sample and Span Inlets, Isolation, Bypass Loop, Integral Zero Scrubber; Remote USB/RS-232 Communications_Aii | Aii1 VietNam, Aii VietNam, AII Vietnam |
| GPR-1600 UHP B_PPB Oxygen Analyzer, Delete Span Inlet and Integral Zero Scrubber Valves_Aii | Aii1 VietNam, Aii VietNam, AII Vietnam |
| | |
| --- | --- |
| AII-2000 HC_Oxygen Analyzer, Home Care_Aii | Aii1 VietNam, Aii VietNam, AII Vietnam |
| AII-2000 M_Oxygen Monitor, 2 Alarms_Aii | Aii1 VietNam, Aii VietNam, AII Vietnam |
| AII-2000 Palm O2_Oxygen Analyzer (Includes: AII-11-75-PO2 Oxygen Sensor and 2x BATT-1008 installed; FITN-1112-1; Manual)_Aii | Aii1 VietNam, Aii VietNam, AII Vietnam |
| AII-2000 Palm O2 R_Oxygen Analyzer (Includes: AII-11-75-PO2R Oxygen Sensor, A-3654, CABL-1009, 2x BATT-1008 installed; FITN-1112-1; Manual)_Aii | Aii1 VietNam, Aii VietNam, AII Vietnam |
| AII-3000 A_Oxygen Analyzer_Aii_Aii | Aii1 VietNam, Aii VietNam, AII Vietnam |
| AII-3000 A-PRX_Oxygen Analyzer with Retractable Pole_Aii | Aii1 VietNam, Aii VietNam, AII Vietnam |
| AII-3000 AHC_Oxygen Analyzer, Hose Connection_Aii | Aii1 VietNam, Aii VietNam, AII Vietnam |
| AII-3000 M_Oxygen Analyzer, Alarms_Aii | Aii1 VietNam, Aii VietNam, AII Vietnam |
| GPR-1000_Portable PPM Oxygen Analyzer_Aii | Aii1 VietNam, Aii VietNam, AII Vietnam |
| GPR-1000 ATEX_Portable PPM Oxygen Analyzer, Certified Intrinsically Safe - ATEX II 2 G Ex ib IIB T4 -20C to +50C_Aii | Aii1 VietNam, Aii VietNam, AII Vietnam |
| GPR-1000 WP_0-1000 PPM Oxygen Weld Purge Analyzer, Integral Pump, Panel Mounted Bypass/Isolation Valve, 1/8" SS Connections_Aii | Aii1 VietNam, Aii VietNam, AII Vietnam |
| GPR-1100_Portable PPM Oxygen Analyzer_Aii | Aii1 VietNam, Aii VietNam, AII Vietnam |
| GPR-1100 ATEX_Portable PPM Oxygen Analyzer, Cerified Intrinsically Safe - ATEX II 2 G Ex ib IIB T4 -20C to +50C_Aii | Aii1 VietNam, Aii VietNam, AII Vietnam |
| GPR-1200_Portable PPM Trace Oxygen Analyzer_Aii | Aii1 VietNam, Aii VietNam, AII Vietnam |
| GPR-1200 ATEX_Portable PPM Oxygen Analyzer, Certified Instrinsically Safe - ATEX II 2 G Ex ib IIB T4 -20C to + 50C_Aii | Aii1 VietNam, Aii VietNam, AII Vietnam |
| GPR-1200 MS_Portable PPB Oxygen Analyzer_Aii | Aii1 VietNam, Aii VietNam, AII Vietnam |
| GPR-1200 MS ATEX_Portable PPB Oxygen Analyzer, Certified Intrinsically Safe - ATEX II 2 G Ex ib IIB T4 -20C to +50C_Aii | Aii1 VietNam, Aii VietNam, AII Vietnam |
| GPR-15 XP_PPM Oxygen Transmitter, Explosion Proof, meets standards for Class 1, Div 1, Grp B,C,D_Aii | Aii1 VietNam, Aii VietNam, AII Vietnam |
| GPR-1500_PPM Oxygen Transmitter_Aii | Aii1 VietNam, Aii VietNam, AII Vietnam |
| GPR-1500 A_PPM Oxygen Analyzer, 2x Alarms_Aii | Aii1 VietNam, Aii VietNam, AII Vietnam |
| GPR-1500 AIS ATEX_PPM Oxygen Analyzer, Certified Intrinsically Safe - ATEX II 2 G Ex d [ib] ib IIB T4 -20C to +50C_Aii | Aii1 VietNam, Aii VietNam, AII Vietnam |
| GPR-1500 AIS UL_PPM Oxygen Analyzer, Certified Intrinsically Safe - UL Class I, Division1, Groups C and D_Aii | Aii1 VietNam, Aii VietNam, AII Vietnam |
| GPR-1500 AIS-LD ATEX_PPM Oxygen Analyzer, Liquid Drain Sample System, Certified Intrinsically Safe - ATEX II 2 G Ex d [ib] ib IIB T4_Aii | Aii1 VietNam, Aii VietNam, AII Vietnam |
| GPR-1500 AIS-LD UL_PPM Oxygen Analyzer, Liquid Drain Sample System, Certified Intrinsically Safe - UL Class I, Division 1, Groups C and D_Aii | Aii1 VietNam, Aii VietNam, AII Vietnam |
| GPR-1500 ATEX_PPM Oxygen Transmitter, External Barriers, Certified Intrinsically Safe - ATEX II 2 G Ex ia IIB T4 -20C to +50C_Aii | Aii1 VietNam, Aii VietNam, AII Vietnam |
| GPR-1500 D_Two Wire Loop Powered PPM OxygenTransmitter 12-24 VDC_Aii | Aii1 VietNam, Aii VietNam, AII Vietnam |
| GPR-1500 D ATEX_PPM Oxygen Transmitter, External Barriers, Certified Intrinsically Safe - ATEX II 2 G Ex ia IIB T4 -20C to +50C_Aii | Aii1 VietNam, Aii VietNam, AII Vietnam |
| GPR-1500 DA_PPM Oxygen Analyzer, 2x Alarms_Aii | Aii1 VietNam, Aii VietNam, AII Vietnam |
| GPR-1500 DK_PPM Oxygen Transmitter, NEMA 4X Enclosure, Meets Standards for Class 1 Div 2_Aii | Aii1 VietNam, Aii VietNam, AII Vietnam |
| GPR-1500 DN_PPM Oxygen Transmitter, NEMA 4X Enclosure_Aii | Aii1 VietNam, Aii VietNam, AII Vietnam |
| GPR-1500 DN ATEX_PPM Oxygen Transmitter, NEMA 4X Enclosure, External Barriers, Intrinsically Safe II 2 G Ex ia IIB T4_Aii | Aii1 VietNam, Aii VietNam, AII Vietnam |
| GPR-1500 GB_PPM Oxygen Transmitter, Glove Box (with B-3170 Sample/Calibration Assembly)_Aii | Aii1 VietNam, Aii VietNam, AII Vietnam |
| GPR-1500 IS ATEX_PPM Oxygen Transmitter, Certified Intrinsically Safe - ATEX II 2 G Ex d [ib] ib IIB T4 -20C to +50C_Aii | Aii1 VietNam, Aii VietNam, AII Vietnam |
| GPR-1500 IS UL_PPM Oxygen Transmitter, Certified Intrinsically Safe - UL Class I, Division 1, Groups C and D_Aii | Aii1 VietNam, Aii VietNam, AII Vietnam |
| GPR-1500 IS-LD ATEX_PPM OxygenTransmitter, Liquid Drain Sample System, Certified Intrinsically Safe - ATEX II 2 G Ex d [ib] ib IIB T4_Aii_ANSS Vietnam | Aii1 VietNam, Aii VietNam, AII Vietnam |
| GPR-1500 IS-LD UL_PPM OxygenTransmitter, Liquid Drain Sample System, Certified Intrinsically Safe - UL Class I, Division 1, Groups C and D_Aii | Aii1 VietNam, Aii VietNam, AII Vietnam |
| GPR-1500 N_PPM Oxygen Transmitter, NEMA 4X Enclosure_Aii | Aii1 VietNam, Aii VietNam, AII Vietnam |
| GPR-1500 N ATEX_PPM Oxygen Transmitter, NEMA 4X Enclosure, External Barriers, Certified Intrinsically Safe - ATEX II 2 G Ex ia IIB T4_Aii | Aii1 VietNam, Aii VietNam, AII Vietnam |
| GPR-1500 PM_PPM Oxygen Transmitter, Panel Mount_Aii | Aii1 VietNam, Aii VietNam, AII Vietnam |
| GPR-16 MS W306-F_PPB Oxygen Analyzer, Wall Mount, 2nd Flowmeter_Aii | Aii1 VietNam, Aii VietNam, AII Vietnam |
| GPR-1600_PPM Oxygen Analyzer_Aii | Aii1 VietNam, Aii VietNam, AII Vietnam |
| GPR-1600 MS_PPB Oxygen Analyzer_Aii | Aii1 VietNam, Aii VietNam, AII Vietnam |
| GPR-1600 MS T_PPB Oxygen Analyzer, Delete Heater and Bypass Valve_Aii | Aii1 VietNam, Aii VietNam, AII Vietnam |
| GPR-1600 MS TO_PPB Oxygen Analyzer, Delete Heater and Bypass Valve_Aii | Aii1 VietNam, Aii VietNam, AII Vietnam |
| GPR-1600 MS W_PPB Oxygen Analyzer, Wall Mount_Aii | Aii1 VietNam, Aii VietNam, AII Vietnam |
| GPR-1600 MS W306_PPB Oxygen Analyzer_Aii | Aii1 VietNam, Aii VietNam, AII Vietnam |
| GPR-1600 MS WT_PPM Oxygen Analyzer, Wall Mount_Aii | Aii1 VietNam, Aii VietNam, AII Vietnam |
| GPR-1600 T_PPM Oxygen Analyzer, Delete Bypass Valve_Aii | Aii1 VietNam, Aii VietNam, AII Vietnam |
| GPR-1600 TO_PPM Oxygen Analyzer, Delete Bypass Valve_Aii | Aii1 VietNam, Aii VietNam, AII Vietnam |
| GPR-1600 UHP_PPB Oxygen Analyzer, Auto Zero/Cal/Pneumatic Valves for Sample and Span Inlets, Isolation, Bypass Loop, Integral Zero Scrubber; Remote USB/RS-232 Communications_Aii | Aii1 VietNam, Aii VietNam, AII Vietnam |
| GPR-1600 UHP B_PPB Oxygen Analyzer, Delete Span Inlet and Integral Zero Scrubber Valves_Aii | Aii1 VietNam, Aii VietNam, AII Vietnam |
| GPR-1600 W_PPM Oxygen Analyzer, Wall Mount_Aii | Aii1 VietNam, Aii VietNam, AII Vietnam |
| GPR-1600 W-AV_PPM Oxygen Analyzer, Wall Mount, Automated Sample, Span, Zero Inlet Valves_Aii | Aii1 VietNam, Aii VietNam, AII Vietnam |
| GPR-1600 W306_PPM Oxygen Analyzer_Aii | Aii1 VietNam, Aii VietNam, AII Vietnam |
| GPR-18_PPM Oxygen Analyzer, Meets Standards for Explosion Proof Class 1, Division 1, Groups B,C and D_Aii | Aii1 VietNam, Aii VietNam, AII Vietnam |
| GPR-18 ATEX_PPM Oxygen Analyzer, Certified Explosion Proof - ATEX II 2 G Ex d IIB or IIB+H2 T6 or T5_Aii | Aii1 VietNam, Aii VietNam, AII Vietnam |
| GPR-18 MS_PPB Oxygen Analyzer, Meets Standards for Explosion Proof Class 1, Division 1, Groups B,C and D_Aii | Aii1 VietNam, Aii VietNam, AII Vietnam |
| GPR-18 MS ATEX_PPB Oxygen Analyzer, Certified Explosion Proof - ATEX II 2 G Ex d IIB or IIB+H2 T6 or T5_Aii | Aii1 VietNam, Aii VietNam, AII Vietnam |
| GPR-1800 AIS ATEX_PPM Oxygen Analyzer, Certified Intrinsically Safe - ATEX II 2 G Ex d [ib] ib IIB T4_Aii | Aii1 VietNam, Aii VietNam, AII Vietnam |
| GPR-1800 AIS UL_PPM Oxygen Analyzer, Certified Intrinsically Safe - UL Class I, Division 1, Groups C and D_Aii | Aii1 VietNam, Aii VietNam, AII Vietnam |
| GPR-1800 AIS-LD ATEX_PPM Oxygen Analyzer, Liquid Drain Sample System, Certified Intrinsically Safe - ATEX II 2 G Ex d [ib] ib IIB T4_Aii | Aii1 VietNam, Aii VietNam, AII Vietnam |
| GPR-1800 AIS-LD UL_PPM Oxygen Analyzer, Liquid Drain Sample System, Certified Intrinsically Safe - UL Class I, Division 1, Groups C and D_Aii | Aii1 VietNam, Aii VietNam, AII Vietnam |
| GPR-1800 IS ATEX_PPM Oxygen Transmitter, Certified Intrinsically Safe - ATEX II 2 G Ex d [ib] ib IIB T4_Aii | Aii1 VietNam, Aii VietNam, AII Vietnam |
| GPR-1800 IS UL_PPM Oxygen Transmitter, Certified Intrinsically Safe - Ul Class I, Division 1, Groups C and D_Aii | Aii1 VietNam, Aii VietNam, AII Vietnam |
| GPR-1800 IS-LD ATEX_PPM Oxygen Transmitter, Liquid Drain Sample System, Certified Intrinsically Safe - ATEX II 2 G Ex d [ib] ib IIB T4_Aii | Aii1 VietNam, Aii VietNam, AII Vietnam |
| GPR-1800 IS-LD UL_PPM Oxygen Transmitter, Liquid Drain Sample System, Certified Intrinsically Safe - UL Class I, Division 1, Groups C and D_Aii | Aii1 VietNam, Aii VietNam, AII Vietnam |
| GPR-1900_PPM Oxygen Analyzer_Aii | Aii1 VietNam, Aii VietNam, AII Vietnam |
| GPR-1900 D_PPM Oxygen Analyzer_Aii | Aii1 VietNam, Aii VietNam, AII Vietnam |
| GPR-1900 MS_PPB Oxygen Analyzer_Aii | Aii1 VietNam, Aii VietNam, AII Vietnam |
| GPR-2000_Portable Oxygen Analyzer_Aii | Aii1 VietNam, Aii VietNam, AII Vietnam |
| GPR-2000 ATEX_Portable Oxygen Analyzer, Certified Instrinsically Safe - ATEX II 2 G Ex ib IIB T4_Aii | Aii1 VietNam, Aii VietNam, AII Vietnam |
| GPR-2000 D_Oxygen Monitor, 2 Alarms_Aii | Aii1 VietNam, Aii VietNam, AII Vietnam |
| GPR-2000 P_Portable Oxygen Analyzer, Integral Pump_Aii | Aii1 VietNam, Aii VietNam, AII Vietnam |
| GPR-2000 P ATEX_Portable Oxygen Analyzer, Integral Pump, Certified Instrinsically Safe - ATEX II 2 G Ex ib IIB T4_Aii | Aii1 VietNam, Aii VietNam, AII Vietnam |
| GPR-2200 ATEX DL_Portable Oxygen Analyzer, Integral Data Logger, Flowmeter, Flow Control Valve, 1/8" SS Tube Fittings_Aii | Aii1 VietNam, Aii VietNam, AII Vietnam |
| GPR-25 XP_Oxygen Transmitter, Meets Standards for Explosion Proof, Class 1, Div 1, Grp B,C and D__Aii | Aii1 VietNam, Aii VietNam, AII Vietnam |
| GPR-2500_Oxygen Transmitter_Aii | Aii1 VietNam, Aii VietNam, AII Vietnam |
| GPR-2500 A_Oxygen Transmitter with Alarms_Aii | Aii1 VietNam, Aii VietNam, AII Vietnam |
| GPR-2500 A MO_Oxygen Purity Analyzer, 2x Alarms_Aii | Aii1 VietNam, Aii VietNam, AII Vietnam |
| GPR-2500 AIS ATEX_Oxygen Analyzer, Certified Intrinsically Safe - ATEX II 2 G Ex d [ib] ib IIB T4_Aii | Aii1 VietNam, Aii VietNam, AII Vietnam |
| GPR-2500 AIS UL_Oxygen Analyzer, Certified Intrinsically Safe - UL Class I, Division 1, Groups C and D_Aii | Aii1 VietNam, Aii VietNam, AII Vietnam |
| GPR-2500 AIS-LD ATEX_Oxygen Analyzer, Liquid Drain System, Certified Intrinsically Safe - ATEX II 2 G Ex d [ib] ib IIB T4_Aii | Aii1 VietNam, Aii VietNam, AII Vietnam |
| GPR-2500 AIS-LD UL_Oxygen Analyzer, Liquid Drain System, Certified Intrinsically Safe - UL Class I, Division 1, Groups C and D_Aii | Aii1 VietNam, Aii VietNam, AII Vietnam |
| GPR-2500 ATEX_Oxygen Transmitter, External Barriers, Certified Intrinsically Safe - ATEX II 2 G Ex ia IIB T4_Aii | Aii1 VietNam, Aii VietNam, AII Vietnam |
| GPR-2500 DK_Oxygen Transmitter, NEMA 4X Enclosure, Meets Standards for Class 1 Div 2_Aii | Aii1 VietNam, Aii VietNam, AII Vietnam |
| GPR-2500 GB_Oxygen Transmitter, Integral Sensor (optional B-3170 Sample/Calibration Assembly)_Aii | Aii1 VietNam, Aii VietNam, AII Vietnam |
| GPR-2500 IS ATEX_Oxygen Transmitter, Certified Intrinsically Safe - ATEX II 2 G Ex d [ib] ib IIB T4_Aii | Aii1 VietNam, Aii VietNam, AII Vietnam |
| GPR-2500 IS UL_Oxygen Transmitter, Certified Intrinsically Safe - UL Class I, Division 1, Groups C and D_Aii | Aii1 VietNam, Aii VietNam, AII Vietnam |
| GPR-2500 IS-LD ATEX_Oxygen Transmitter, Liquid Drain System, Certified Intrinsically Safe - ATEX II 2 G Ex d [ib] ib IIB T4_Aii | Aii1 VietNam, Aii VietNam, AII Vietnam |
| GPR-2500 IS-LD UL_Oxygen Transmitter, Liquid Drain System, Certified Intrinsically Safe - UL Class I, Division 1, Groups C and D_Aii | Aii1 VietNam, Aii VietNam, AII Vietnam |
| GPR-2500 KAI_Oxygen Transmitter_Aii | Aii1 VietNam, Aii VietNam, AII Vietnam |
| GPR-2500 MO_Oxygen Purity Transmitter_Aii | Aii1 VietNam, Aii VietNam, AII Vietnam |
| GPR-2500 MO N_Oxygen Purity Transmitter, NEMA 4X Enclosure_Aii | Aii1 VietNam, Aii VietNam, AII Vietnam |
| GPR-2500 N_Oxygen Transmitter, NEMA 4X Wall Mount_Aii | Aii1 VietNam, Aii VietNam, AII Vietnam |
| GPR-2500 N ATEX_Oxygen Transmitter, NEMA 4X Wall Mount, External Barriers, Certified Intrinsically Safe - ATEX II 2 G Ex ia IIB T4_Aii | Aii1 VietNam, Aii VietNam, AII Vietnam |
| GPR-2500 S_Ambient Oxygen Monitor_Aii | Aii1 VietNam, Aii VietNam, AII Vietnam |
| GPR-2500 S ATEX_Ambient Oxygen Monitor, External Barriers, Certified Intrinsically Safe - ATEX II 2 G Ex ia IIB T4_Aii | Aii1 VietNam, Aii VietNam, AII Vietnam |
| GPR-2500 SB_Oxygen Transmitter_Aii | Aii1 VietNam, Aii VietNam, AII Vietnam |
| GPR-2500 SN_Ambient Oxygen Monitor, NEMA 4X Enclosure_Aii | Aii1 VietNam, Aii VietNam, AII Vietnam |
| GPR-2500 SN ATEX_Ambient Oxygen Monitor, NEMA 4X Enclosure, External Barriers, Certified Intrinsically Safe - ATEX II 2 G Ex ia IIB T4_Aii | Aii1 VietNam, Aii VietNam, AII Vietnam |
| GPR-2600_Oxygen Analyzer_Aii | Aii1 VietNam, Aii VietNam, AII Vietnam |
| GPR-2600 W_Oxygen Analyzer, Wall Mount_Aii | Aii1 VietNam, Aii VietNam, AII Vietnam |
| GPR-28_Oxygen Analyzer, Meets Standards for Explosion Proof Class 1, Division 1, Groups B,C and D_Aii | Aii1 VietNam, Aii VietNam, AII Vietnam |
| GPR-28 ATEX_Oxygen Analyzer, Certified Explosion Proof - ATEX II 2 G Ex d IIB or IIB+H2 T6 or T5_Aii | Aii1 VietNam, Aii VietNam, AII Vietnam |
| GPR-2800 AIS_Analyzer System consisting of sample pump & switch, coalescing filter, 1/8" flexible tubing, SS tubing inserts, 20 terminals, manual valves, fiberglass enclosur_Aii | Aii1 VietNam, Aii VietNam, AII Vietnam |
| GPR-2800 AIS ATEX_Oxygen Analyzer, Certified Intrinsically Safe - ATEX II 2 G Ex d [ib] ib IIB T4_Aii | Aii1 VietNam, Aii VietNam, AII Vietnam |
| GPR-2800 AIS S ATEX_Ambient Oxygen Analyzer, Certified Intrinsically Safe - ATEX II 2 G Ex d [ib] ib IIB T4_Aii | Aii1 VietNam, Aii VietNam, AII Vietnam |
| GPR-2800 AIS S UL_Ambient Oxygen Analyzer, Certified Intrinsically Safe - UL Class I, Division 1, Groups C and D or ATEX II 2 G Ex d [ib] ib IIB T4_Aii | Aii1 VietNam, Aii VietNam, AII Vietnam |
| GPR-2800 AIS UL_Oxygen Analyzer, Certified Intrinsically Safe - UL Class I, Division 1, Groups C and D_Aii | Aii1 VietNam, Aii VietNam, AII Vietnam |
| GPR-2800 AIS-LD ATEX_Oxygen Analyzer, Liquid Drain System, Certified Intrinsically Safe - ATEX II 2 G Ex d [ib] ib IIB T4_Aii | Aii1 VietNam, Aii VietNam, AII Vietnam |
| GPR-2800 AIS-LD UL_Oxygen Analyzer, Liquid Drain System, Certified Intrinsically Safe - UL Class I, Division 1, Groups C and D_Aii | Aii1 VietNam, Aii VietNam, AII Vietnam |
| GPR-2800 IS ATEX_Oxygen Transmitter, Certified Intrinsically Safe - ATEX II 2 G Ex d [ib] ib IIB T4_Aii | Aii1 VietNam, Aii VietNam, AII Vietnam |
| GPR-2800 IS S ATEX_Ambient Oxygen Transmitter, Certified Intrinsically Safe - ATEX II 2 G Ex d [ib] ib IIB T4_Aii | Aii1 VietNam, Aii VietNam, AII Vietnam |
| GPR-2800 IS S UL_Ambient Oxygen Transmitter, Certified Intrinsically Safe - UL Class I, Division 1, Groups C and D_Aii | Aii1 VietNam, Aii VietNam, AII Vietnam |
| GPR-2800 IS UL_Oxygen Transmitter, Certified Intrinsically Safe - UL Class I, Division 1, Groups C and D_Aii | Aii1 VietNam, Aii VietNam, AII Vietnam |
| GPR-2800 IS-LD ATEX_Oxygen Transmitter, Liquid Drain System, Certified Intrinsically Safe - ATEX II 2 G Ex d [ib] ib IIB T4_Aii | Aii1 VietNam, Aii VietNam, AII Vietnam |
| GPR-2800 IS-LD UL_Oxygen Transmitter, Liquid Drain System, Certified Intrinsically Safe - UL Class I, Division 1, Groups C and D_Aii | Aii1 VietNam, Aii VietNam, AII Vietnam |
| GPR-2900_Oxygen Analyzer_Aii | Aii1 VietNam, Aii VietNam, AII Vietnam |
| GPR-2900 W_Oxygen Analyzer, Wall Mount_Aii | Aii1 VietNam, Aii VietNam, AII Vietnam |
| GPR-3000 T_PPM Oxygen Analyzer, Delete Bypass Valve_Aii | Aii1 VietNam, Aii VietNam, AII Vietnam |
| GPR-3100_Oxygen Purity Analyzer_Aii | Aii1 VietNam, Aii VietNam, AII Vietnam |
| GPR-3100 W_Oxygen Purity Analyzer, Wall Mount_Aii | Aii1 VietNam, Aii VietNam, AII Vietnam |
| GPR-35_Ambient Oxygen Monitor_Aii | Aii1 VietNam, Aii VietNam, AII Vietnam |
| GPR-35 CSA_Ambient Oxygen Monitor, CSA Certified_Aii | Aii1 VietNam, Aii VietNam, AII Vietnam |
| GPR-35 PRX_Oxygen Monitor (GPR-11-60-4R O2 Sensor, CONN-1014-5 Connector Cable 50 ft, 2x CABL-1012 Cable Strain Relief)_Aii | Aii1 VietNam, Aii VietNam, AII Vietnam |
| GPR-350 PRX_Oxygen Monitor (GPR-11-60-4R O2 Sensor, CONN-1014-5 Connector Cable 50 ft, Handle, PWRS-1005-1 Power Entry Module, SWCH-1018 Battery Switch)_Aii | Aii1 VietNam, Aii VietNam, AII Vietnam |
| GPR-3500 MO_Portable Oxygen Purity Analyzer w/Flow Meter_Aii | Aii1 VietNam, Aii VietNam, AII Vietnam |
| GPR-3500 MOV_Portable Oxygen Purity Analyzer w/Flow Meter, 4-way Bypass Valve_Aii | Aii1 VietNam, Aii VietNam, AII Vietnam |
| GPR-3500 MOVR_Portable Oxygen Purity Analyzer w/Flow Meter, 4-way Bypass Valve_Aii | Aii1 VietNam, Aii VietNam, AII Vietnam |
| GPR-7100_Portable PPM H2S Analyzer, Meets Standards for ATEX II 2 G Ex d [ib] ib IIB T4_Aii | Aii1 VietNam, Aii VietNam, AII Vietnam |
| GPR-7500 AIS ATEX_PPM H2S Analyzer, Certified Intrinsically Safe - ATEX II 2 G Ex d [ib] ib IIB T4_Aii | Aii1 VietNam, Aii VietNam, AII Vietnam |
| GPR-7500 AIS UL_PPM H2S Analyzer, Certified Intrinsically Safe - UL Class 1, Division 1, Groups C and D_Aii | Aii1 VietNam, Aii VietNam, AII Vietnam |
| GPR-7500 AIS UL DPE_PPM H2S Analyzer, Certified Intrinsically Safe - UL Class 1, Division 1, Groups C and D_Aii | Aii1 VietNam, Aii VietNam, AII Vietnam |
| GPR-7500 AIS-LD ATEX_PPM H2S Analyzer, Liquid Drain, Certified Intrinsically Safe - ATEX II 2 G Ex d [ib] ib IIB T4_Aii | Aii1 VietNam, Aii VietNam, AII Vietnam |
| GPR-7500 AIS-LD UL_PPM H2S Analyzer, Liquid Drain Certified Intrinsically Safe - UL Class 1, Division 1, Groups C and D_Aii | Aii1 VietNam, Aii VietNam, AII Vietnam |
| GPR-7500 AIS-SB ATEX_PPM H2S Analyzer, Certified Intrinsically Safe - ATEX II 2 G Ex d [ib] ib IIB T4, Span Bottle Mount_Aii | Aii1 VietNam, Aii VietNam, AII Vietnam |
| GPR-7500 AIS-SB UL_PPM H2S Analyzer, cUL Certified Intrinsically Safe Class 1, Division 1, Groups C and D, Span Bottle Mount_Aii | Aii1 VietNam, Aii VietNam, AII Vietnam |
| GPR-7500 AISAMB ATEX_Ambient H2S Analyzer, ATEX Certified_Aii | Aii1 VietNam, Aii VietNam, AII Vietnam |
| GPR-7500 AISAMB cUL_Ambient H2S Analyzer, cUL Certified_Aii | Aii1 VietNam, Aii VietNam, AII Vietnam |
| GPR-7500 IS ATEX_PPM H2S Transmitter, Certified Intrinsically Safe - ATEX II 2 G Ex d [ib] ib IIB T4_Aii | Aii1 VietNam, Aii VietNam, AII Vietnam |
| GPR-7500 IS UL_PPM H2S Transmitter, Certified Intrinsically Safe - UL Class 1, Division 1, Groups C and D_Aii | Aii1 VietNam, Aii VietNam, AII Vietnam |
| GPR-KF40_Oxygen Transmitter (ref A-3818, optional A-4005 Flow Adapter)_Aii | Aii1 VietNam, Aii VietNam, AII Vietnam |
| GPR-KF40-12PPM Oxygen Transmitter (ref A-3818, optional A-4005 Flow Adapter)_Aii | Aii1 VietNam, Aii VietNam, AII Vietnam |
| OEM-15 D_PPM Oxygen Transmitter OEM Package (A-1112C-M, GPR-12-100-4, A-2910-1, A-2221)_Aii | Aii1 VietNam, Aii VietNam, AII Vietnam |
| OEM-15 D GB_Glove Box PPM Oxygen Transmitter OEM Package (A-1112C-M, GPR-12-100-M, B-3170, A-2910, A-2196)_Aii | Aii1 VietNam, Aii VietNam, AII Vietnam |
| OEM-15 D NG_Nitrogen Generator PPM Oxygen Transmitter OEM Package (A-1112C-M, GPR-12-100-4, CONN-1014, A-3051)_Aii | Aii1 VietNam, Aii VietNam, AII Vietnam |
| OEM-15 EIS-G_PPM Oxygen Transmitter OEM Package (A-1112C-M w/Display, GPR-12-333)_Aii | Aii1 VietNam, Aii VietNam, AII Vietnam |
| OEM-15 EIS-P_PPM Oxygen Transmitter OEM Package (A-1112C-M w/Display, PSR-12-223)_Aii | Aii1 VietNam, Aii VietNam, AII Vietnam |
| OEM-15-1 D_PPM Oxygen Transmitter OEM Package (A-1112C-M, GPR-12-100-4, Cable Connectors)_Aii | Aii1 VietNam, Aii VietNam, AII Vietnam |
| OEM-1500 A MB_PPM Oxygen Analyzer with Modbus_Aii | Aii1 VietNam, Aii VietNam, AII Vietnam |
| OEM-1500 SR_Glove Box PPM Oxygen Transmitter OEM Package (A-1161-B-IS-1 Rev C3, A-1182-1 Rev B, GPR-12-333, A-1004-2-14, MTR-1010)_Aii | Aii1 VietNam, Aii VietNam, AII Vietnam |